Golf Leagues at Spring Creek Golf Club
Ladie's League
The newest league forming at Spring Creek Golf Club is especially suited for the ladies. This league will play on Monday evenings starting at 5:30 PM. Contact Shirley Perkins for more information.
Mixed League
Thursday Evenings beinning in May through the end of the summer will find many members playing in our Mixed League. The course is not closed but is usually full as this is one of our most popular events.
Teams consist of 1 man and 1 woman with 2-person scramble format playing 9 holes per night. There is an Entry Fee to participate. Each week teams register at the clubhouse to be drawn for pairings and tee assignments. An optional Skins game is also held weekly. Teams must accumulate 10 scores in league play to
establish flights. The season finale finds teams paired in their flights competing for placing and prizes.
The cost for the Thursday Mixed League is $42 for the 14 weeks of play. All fees are awarded in prizes at the end of the season.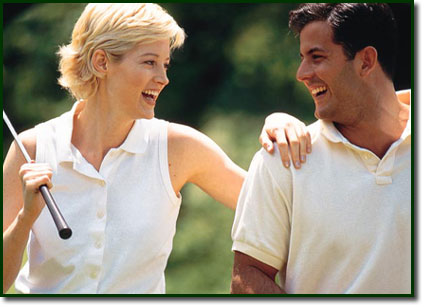 This event is a great way to meet other members of the club. They've been known to have dinner on occasion as part of the evening as well as lots of fun and fellowship the rest of the time. For more information contact the clubhouse.
Wednesday Mens' League
AFTERNOON
There are two Mens' Leagues that play on Wednesdays at Spring Creek Golf Club. A late-morning league hosts many of the club's retired members and those with a work schedule permitting daytime play. This league typically plays an 18-hole round of golf. Scores are kept per individual golfer as well as partner/team. Scores are also entered into the Handicap system for tracking your golf handicap.
EVENING
The Wednesday evening Mens' League is more informal in structure. If you would like to participate, teams form at the First Tee around 5:15 PM on Wednesday evenings. The cost is $3 per person with Skins awarded. A meal will follow the 9-hole round of golf in the banquet hall. Proceeds from entry fees go toward the Skins game as well as food for the event.
Friday Evening Couples League
This is a casual league for those that cannot make a season-long commitment such as the Thursday Evening Mixed League. Just play when your schedule permits.
The Friday Evening Couples League is a social event. The cost is $10 per couple with all proceeds going toward food and refreshments. Couples are paired into 4-person teams playing a scramble format. A 9-hole round will be played followed by an evening meal in the banquet hall. Contact AJ Seay for more information.
Spring Creek Golf Club ♦ 99 County Road 3220 Salem, Missouri 65560 ♦ PH 573-729-3080
This site maintained by Craig Technology Consulting